INNER SPACE AND OUTER FORM: Reflections on Vaastu workshop
The Vaastu Tutorial was conducted in April 2019 over 3 days with 5 participants. The whole intention behind the workshop was to train the participants to take my work and teaching all over the country.
This was not something that I had particularly thought of, rather something that evolved from the participants who got in touch with me. The most interesting thing was that all of them were female, out of which two of the participants, Gabriela and Daniela, were from Moldova, a small country between Romania and Ukraine.
Gabriela came to know about me through my talk in YouTube, and her efforts to get in touch with me and come all the way from Moldova along with her friend Daniela to learn Vaastu from me was really overwhelming. This show of faith from these two women propelled me to organise a tutorial of sorts, open for all who were interested in delving into the ancient Indian tradition of Vaastu Shastra.
In regards to teaching this tradition, there are two types of courses:
Simple course, not for technical people
Another is for architects and designers which is called advanced module.
The challenge in each of these modules is to render the teaching appropriate to the group profile. So far, I have been in the habit of keeping some bullet points as guideline and extemporising on these points for each group. As a result, there is actually no manual to help the teacher in replicating the module in changing contexts.
When I conducted the last tutorial in January, I decided to get the entire teaching audio recorded. The idea was to prepare a work book, something like the PURE (Personal unfolding and role effectiveness) manual that we had developed some years ago. The PURE manual dealt with the application of yoga principles and simple behavioural exercises in an organisational context. With Sarina's help in transcribing the audio tapes, the result is a series of modules called  'Inner Space and Outer Form' (Vaastu Tutorial level 1 & level 2).
The idea is to make both these levels into simple read/work/self-assess/review work books. The possibility is now immense to make this available for a learning process that will be partly based on reading of the text and going through exercises to comprehend the information. The dream is to be able to take this forward to colleges and architects' offices, so that this amazing tradition continues to be studied and experienced instead of being lost to the annals of history.
Two of the participants wrote in to give me their feedback, and I would like to share them with you all, in the hopes that it may spark a flame of curiosity or recognition within yourselves.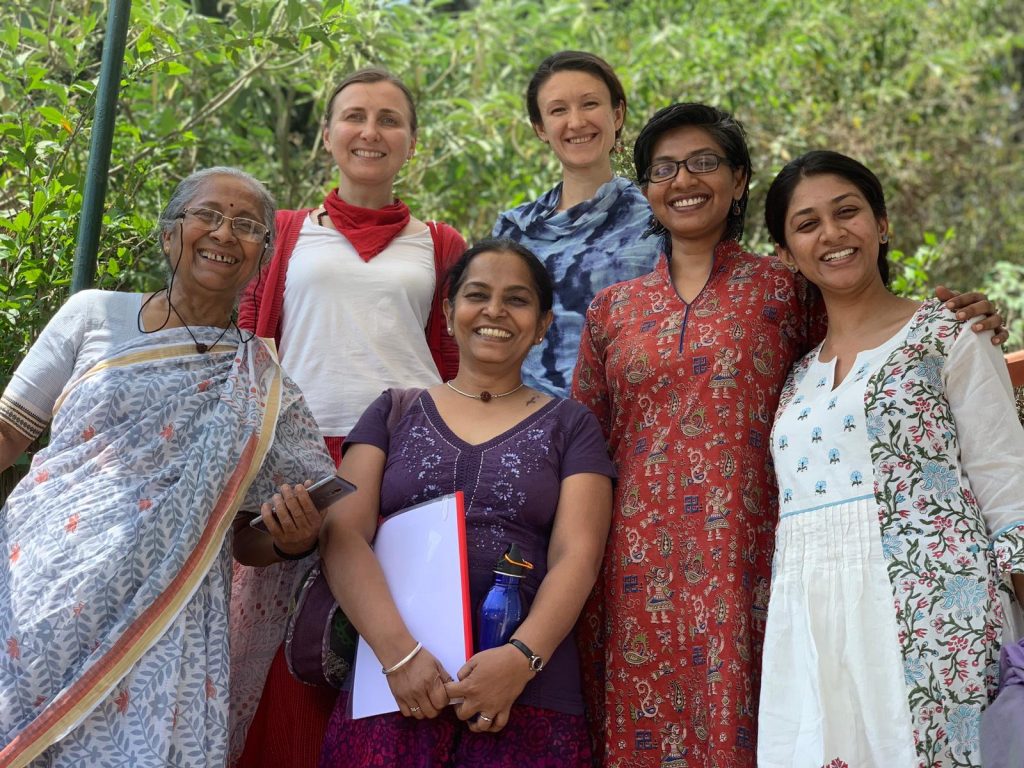 Anisha Ranjit
"The house, or any space, is like the body; if the alignment is right the breath/ prana flows effortlessly."
The Vaastu workshop with Sashi was quite mind-blowing for me. I never believed in Vaastu; all I kept hearing from various people was the benefits of an east facing house, while I live in a south facing house. In general, the house I live in is convenient except that it's very dull and dark in the central space, and it's in dire need of maintenance.
I had consulted Sashi 2 years ago to check if the space needs any special changes, as I intended to start using the place for teaching more actively. Since I had no original connection to the space (my husband being the owner/yajman of the house), Sashi suggested we do a tribal ritual for 49 days; the lighting of a lamp with five elements on a plate.
We couldn't complete 49 days at a stretch, but we continue to light the lamp and chant whenever we are home. Just seeing it is uplifting, it has definitely shifted the energy of the space. I had also been chanting in each room and was beginning to feel a connect to the space, but I was unable to get any maintenance work started.
Whenever I told Sashi my plans for the space, she kept saying "What does Ranjit want? He is the yajman, it is his inheritance!" At that point I couldn't understand her, but over the last 2 years I began to understand that spaces and ownership of these spaces matter at an energetic level, which is something we ignore at our own peril!
So here I was, attending the Vaastu workshop, hoping to grasp some ideas to apply while finding a rented accommodation. Initially, I wasn't sure if I would be able to understand these things. However, Sashi made sure that each of us in the group of five could understand what she spoke of in an experiential way. For me, after having experienced each direction of the house with chanting, I could relate to the energies mentioned, especially in the non cardinal directions.
The house, or any space, is like the body; if the alignment is right the breath/ prana flows effortlessly. As I look for rented spaces I am paying attention to my own flow of breath and alignment to choose a space that is more aligned to my aligned state."
Gabriela
"Vaastu is not abut some random rules of placing objects within a space. It is about tuning in to nature, getting out from the psychological into the existential reality, seeing the primordial cause in everything."
"The completion of the 3 days course of Introductory Vaastu left me with a clear determination of wishing to delve more into this science. Vaastu is not abut some random rules of placing objects within a space. It is about tuning in to nature, getting out from the psychological into the existential reality, seeing the primordial cause in everything.
I am happy to have found a teacher who abides by the knowledge she teaches, making it accessible to whoever is ready to imbibe it with reverence.
In the course, a strong focus has been placed on empowerment through knowledge and personal experience. A constant input-output process through carefully crafted questions and practical exercises ensured that the disciples lived every piece of knowledge right away.
It is known that objects placed in space in a certain way affect us at the subliminal level. internalised Vaastu merges 'the dancer' and the process of dancing into 'the dance' itself! When it happens, it feels like homecoming, for it is conducive to introspection into one's own source.
Last, but not least, irrespective of how esoteric it may sound, the course has a very practical approach, with concrete suggestions for your space to become your recharging abode – a place of comfort and wellbeing.
I recommend this course to all those who are open minded and ready to experiment, those who can allow themselves to be surprised by the outcome."