SEARCHING FOR THE STREAM IN THE WOODS
Sitting quietly at the Ritambhara Ashram just as the sun sets and the birds have gone to their nests, you feel incredibly tranquil. In a corner of your mind, you notice the sounds of a waterfall. It is a far away, tantalizing sound. On some days it can be heard clearly, especially after a heavy rain, and on others one has to walk to the farthest corner of the Ashram to hear this beautiful drum beat.
The heavy rains do something else too, they cause a sudden flow of water in the stream and like a small flash flood, it displaces the neatly laid traps that feed water to the Ashram. And so I wanted to investigate the source of the water and the state of our pipes.
With Murugesan, the local tribal person who helps out with these tasks, Mahesh, and Varadan, our managers, we set off on the walk following the pipe that had been laid out precariously in the dense forest.
"Here is where the bison cross, and they step on the pipes and disconnect them," Murugesan explained as we went across a steep ledge. "The pipeline goes up and down, so we get airlocks," he said.
I hadn't imagined I would find something that is a regular occurrence on a shop floor in the depths of the jungle. Nor did I expect Murugesan to say "air lock" in the midst of a discussion in Tamil!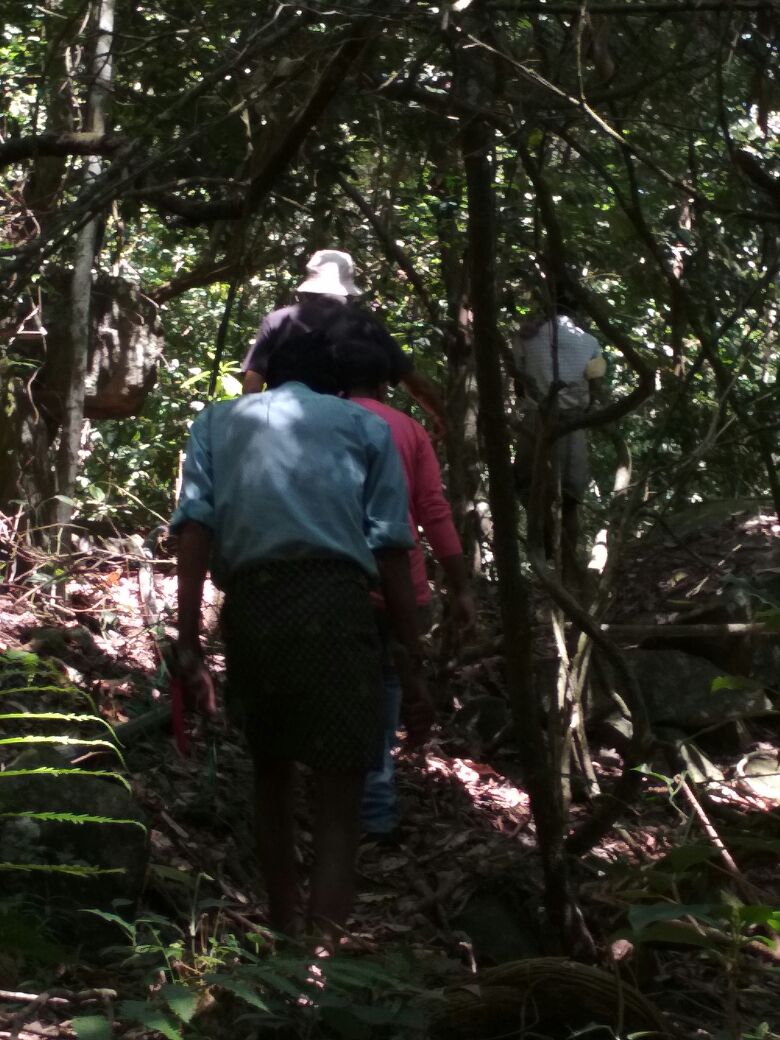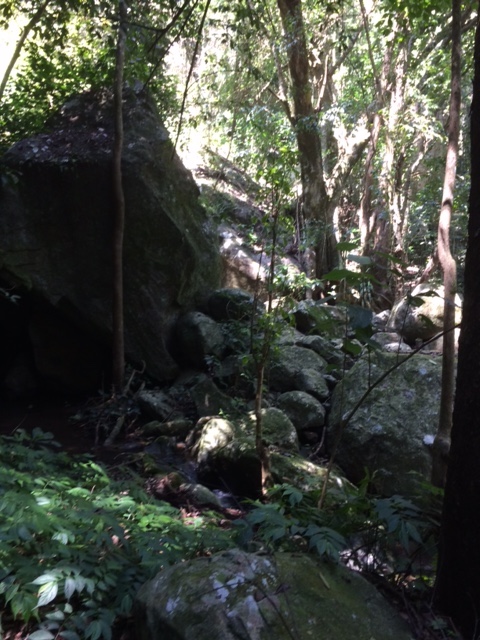 As we went closer to the source, the sound of the water flowing across the sharp incline grew louder, at times gurgling, and splashing across the rocks.
These sounds have a beautiful rhythm and a mesmerizing quality.
I slowed down and sat for a while.
I could see glimpses of the stream through the trees. 
Some of the trees were magnificent, old and mighty.
Finally we crossed the corner of a sharp bend in the path and the whole waterfall came to view. Huge boulders marked the bed of the stream, a sharp fall here, a small pool there.
Then we walked up to the high point of this part of the stream where the water flowed gently out of a large cave-like formation into a large pool, and then down about 40 feet of rock formations and sharp slopes.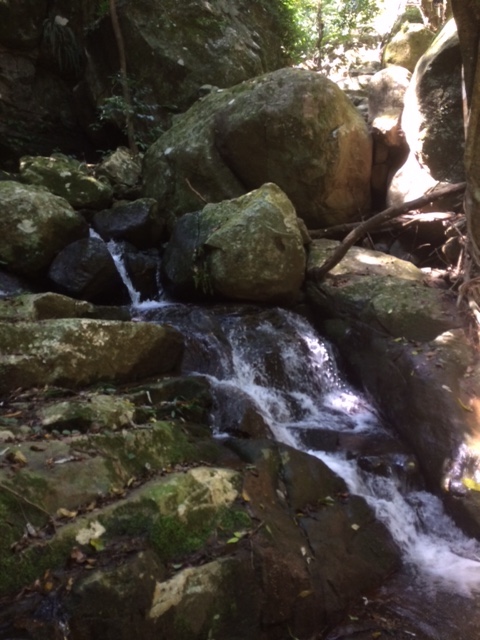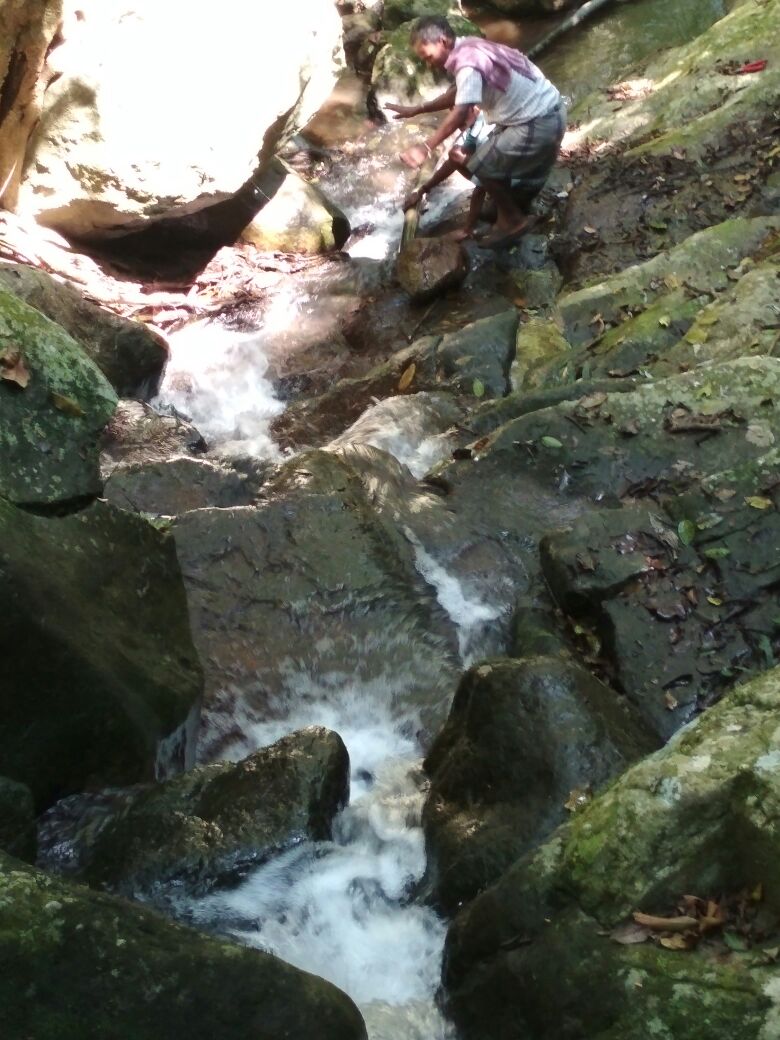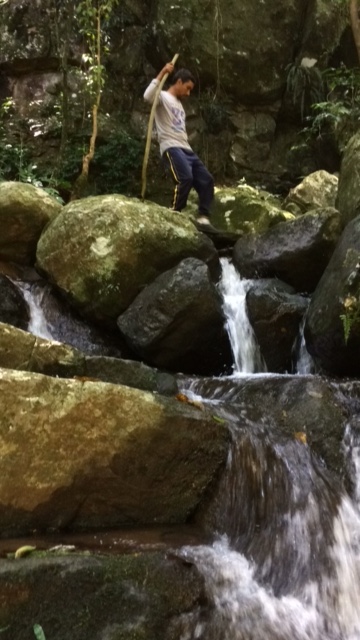 Nature has a way of stopping one's mind, stilling it with the sheer rawness of her beauty.
One is aware, listening, careful of each step, all senses awake and suspended between a sense of awe and a sense of danger.
We got to work, setting the pipes right. We thought we did a good job and returned home, sated and satisfied.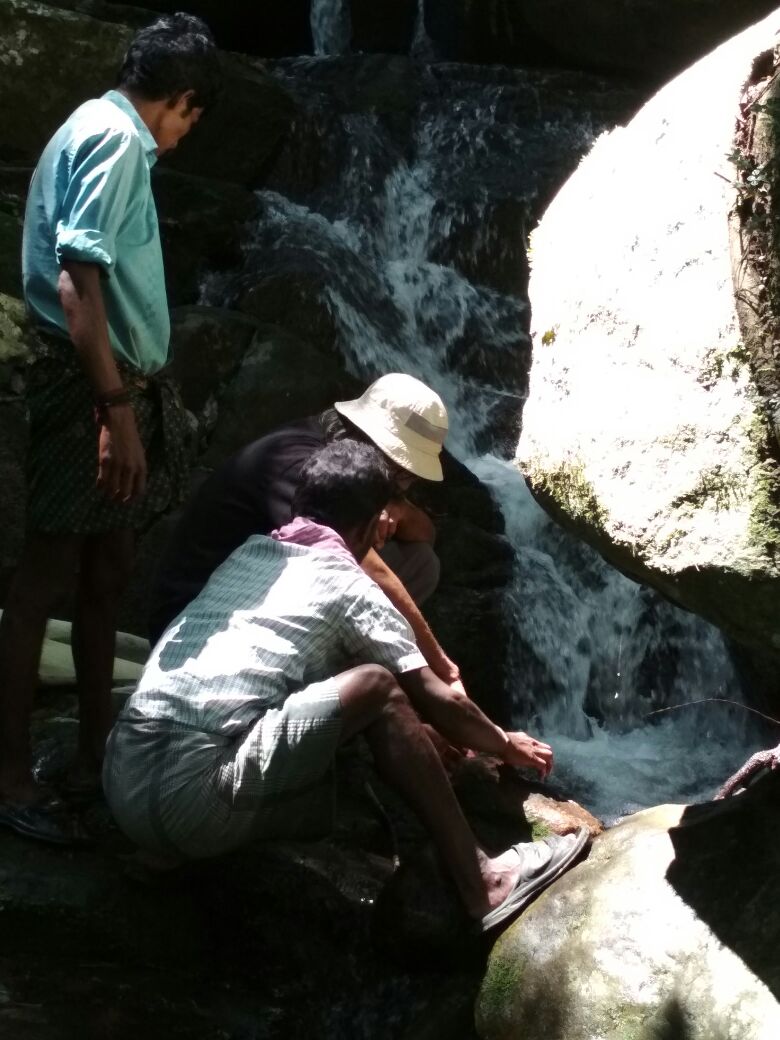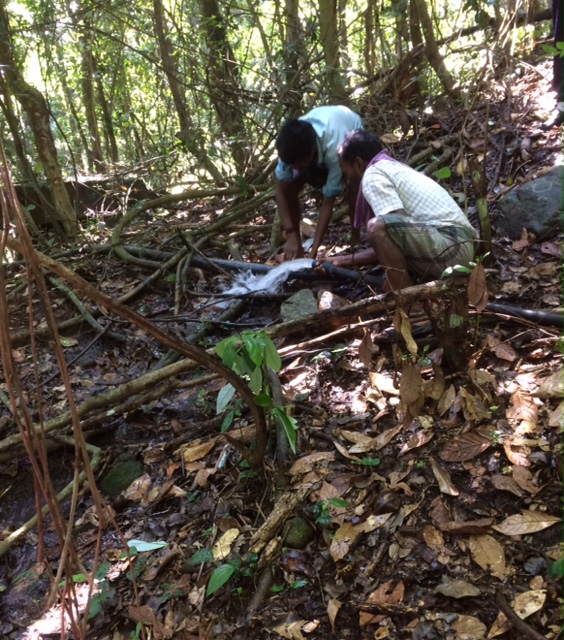 The next night, there was an unusually heavy downpour. The huge boulders we had arranged had been washed off!
Along with admiring her beauty, we have to deal with the raw power of nature and find a way of working with it.