Who are you? Where are you?  What is your life's mission?

Is your heroic potential waiting to be discovered? Are you a person with passion, like Bhima, feeling constrained in a culture of conformity? Are you called to anchor order, like Yudhistra, confronting chaos and feeling blocked? Are you a deeply reflexive Arjuna, concerted with the nature of the world? Are you an innovative Sahadeva, feeling isolated, or a compassionate Nakula, deeply in touch with humanity?
The 5 Seats of Power will generate insights that enable you to realise your dreams and lead your organisation to become the best that it can be.
Do you remember the last time you asked yourself:
Who am I?

Where am I?

Why am I really here?

In doing what I am doing, what am I really doing?
If the answer is yes to at least one of the questions, you have already taken the first step on a hero's journey to discover the best that you can be. In the current context of VUCA (volatility, uncertainty, complexity, and ambiguity), the future belongs to those leaders who ask the burning questions, because real impact and power emerges from these fundamental questions.
Any power that merely rests on skills and external anchorages will ultimately give way. True leaders are capable of tapping into their inner wisdom to discover the real intent, and then act using that intent as an anchorage. You may ask, "Do I have it in me?"
The answer is YES. It is possible through our most insightful framework so far, the Mahabharata, which will help you understand the leadership process.
Through this exploration into the 5 Seats of Power, you will learn how to be a wise leader, one who can wield authority and evoke respect while navigating the world with grace; a leader who is aware, balanced, calm, and delightful.
This program is a journey into the inner world of the leader, using the framework of the Mahabharata.
The framework speaks of 5 types of archetypal energies that reside in each of us, i.e. the 5 forms of power; the ways in which they manifest and how they can be shaped to benefit one's self and context simultaneously. After all, leaders not only nurture their own potential, but evoke and foster the potential of others too.
Having an insight into these five propensities, leads one to touch upon their aspirations and to use this as a springboard for heroic action. The participants will be able to understand the potency of these energies (both the positive and shadow sides) and in turn, learn to deploy them wisely.
You will:
Discover the dream of being the best one can be

Understand one's behaviour patterns

Understand what it means to be a true leader
Who is it for?
Perfect for grooming Leaders-In-The-Making

Managers in mid careers, looking to accelerate their growth and skills

Any individual raring to unleash their true potential
Past Workshops
---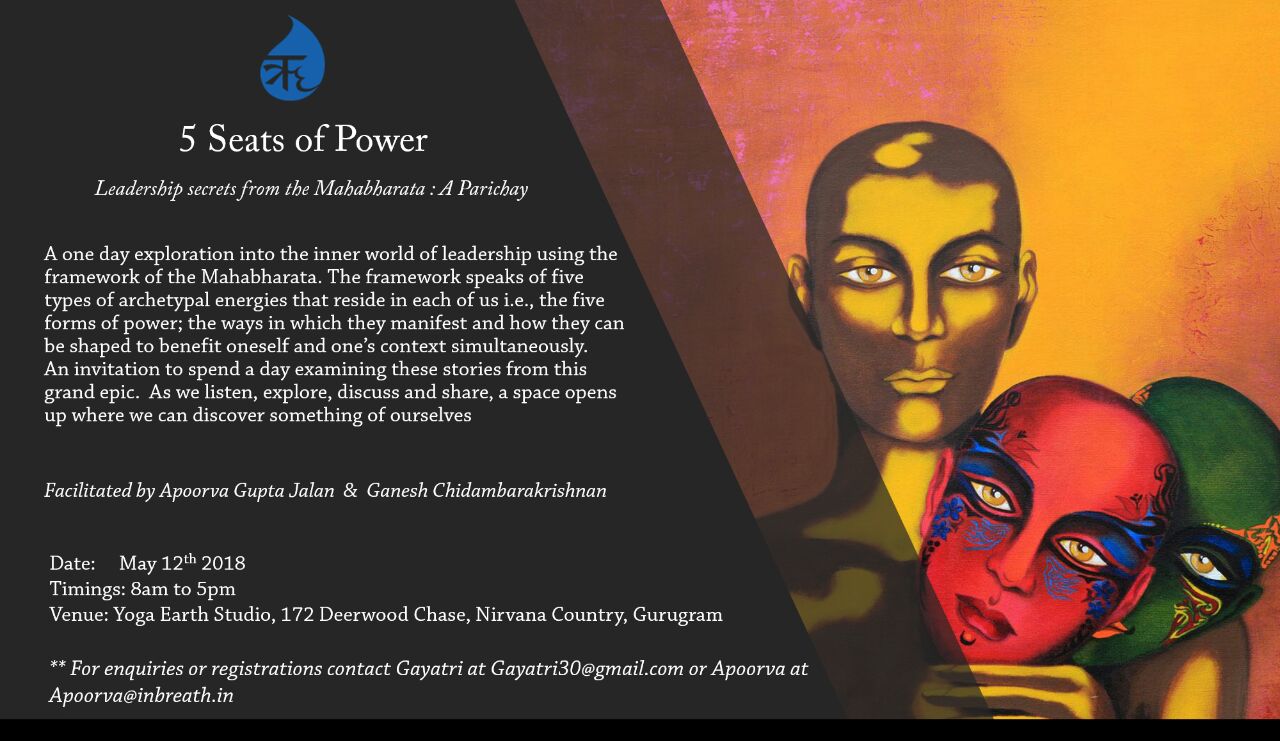 Yoga Earth Studio, 172 Deerwood Chase, Nirvana Country, Gurugram