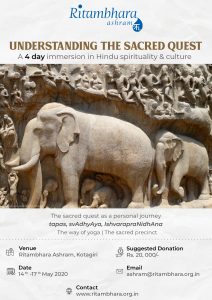 The Sacred Quest defines India. As the world races forward, anchoring oneself in this quest will be essential to provide a person with an inner compass that will guide them through volatility and uncertainty. Through this program, Ritambhara will provide a key to unlock the secrets of the quest.
This four days immersion is specially designed for teenagers to serve as an introduction to the essential aspects of Hindu Spirituality, Culture and Philosophy. This unique program is for the youth who are curious and keen to understand more about his / her roots.
The design of this program is inspired by the central idea of yoga, viz., Kriya Yoga.
Fill in the form below to register, contact Hari at +919966900337 or email ashram@ritambhara.org.in