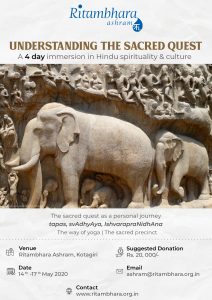 Understanding the Sacred Quest is a unique offering from Ritambhara specially designed for teenagers to introduce them to the quintessential sacred quest that defines India. As the world races forward, anchoring oneself in this quest will be essential to provide oneself with an inner compass that will guide them through volatility and uncertainty.
Inspired by the central idea of Yoga Sutra, viz., Kriya Yoga, this offering will introduce the youth to three central elements that can prepare their body and mind on the path of self-enquiry and contemplation. The entire process will be brought alive in a contemporary context by combining experiential learning modes and dialogues.
Click here to download the Sacred Quest 2020 brochure.
Fill in the form below to register your interest.