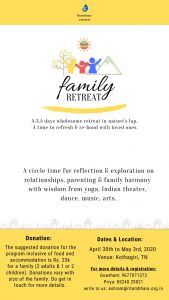 Our families are the foundation of our aspirations, explorations & successes. However, we live in a context where the health and well-being of a family space are being strained & challenged in many ways. Consequently, families could accumulate wear and tear, breed functional and dysfunctional parts and therefore need our attention from time to time. Keeping this in mind, the program has been designed to energize & nourish the individual & the family space.
The framework of Saptaswara has its foundations in long years of study of yoga with Yogacharya Krishnamacharya and Shri Desikachar, a study of vAstu shAstras with Sri Ganapati Sthapati and Behavioural Sciences with Shri Pulin K Garg. Several
years of deep contact with J Krishnamurti also adds to this framework.
For registration, please contact:
Gowtham: +919677071373 | Priya: +918524029821 | Email: ashram@ritambhara.org.in